Our main service we offer is our Event Design, Decor & Rentals. If you utilize this service you have the option of adding on our other packages such as our Event Planning and/or our Floral Design. To read more about each service. click the links below.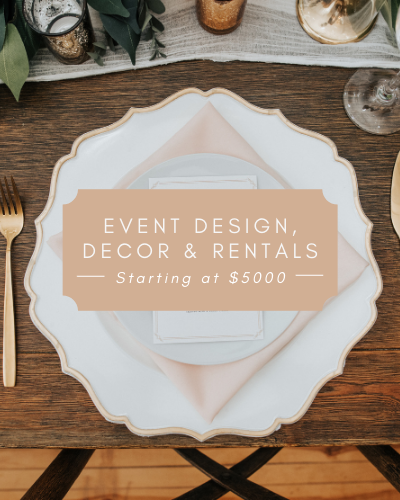 Event Design, Décor & Rentals
Our Event Design, Decor & Rental service starts at $5000 and includes the full decorating of your venue as well as all of the rental products needed to achieve the desired look. We work with you to create your own Custom Design Plan for all decor aspects of your wedding based on the style of wedding you are envisioning.  Pricing is based off of the individual items you choose for your event. We only take on full service event decor and rentals. If you require only a few rental or decor items let us know and we will direct you to our sister company Valley Tent & Party Rentals.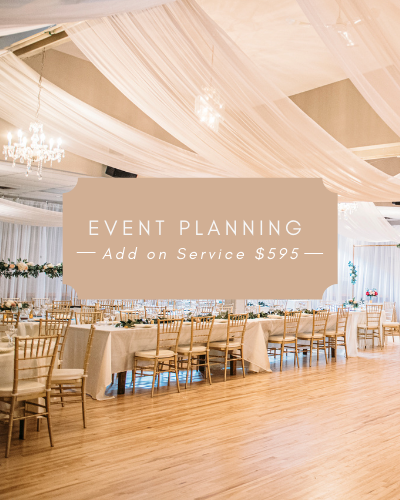 Event Planning 
Our passion is creating one of the most amazing days of your life, exactly the way you envisioned it. Working with our Event Planner to review your wedding day plans, she will prepare a custom Wedding Planning Binder of your wedding from ceremony to reception. Your custom package will include all your timelines (pre-wedding, wedding day, post-wedding) to ensure you are organized and prepared. Your package will also include layouts of your venue, design concepts with photos and descriptions of all the aspects of your event, a list of all the products you will need to put this design together, and tailored checklists to help you prepare for the special day.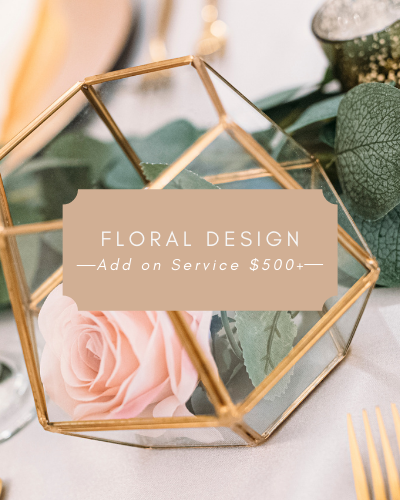 Floral Design
Our floral design team can create all the floral components of your wedding using real and/or silk floral elements. We work with you to design your personalized arrangements. We offer a wide range of floral options to choose from including arbour florals, centerpiece arrangements, greenery runners and more. Our installation is included in the design price We currently only offer this service to customers using our Event Design, Decor & Rental Services.