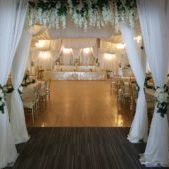 Event Design
Our passion is creating one of the most amazing days of your life, exactly the way you envisioned it. Working with our Event Designer to review your vision, over some bubbly, she will prepare a design package of your wedding from Ceremony to Reception. Your very own personalized design package will include layouts of your venue, design concepts with photos and descriptions of all the aspects of your event, as well as a list of all the products you will need to put this design together.
Price: $795.00 +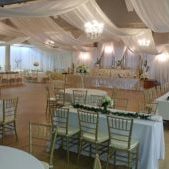 Event Decor & Rentals
Our rental products are for customer using our Event Design Packages. Using prefered rental companies in the area of your wedding we are able to provide hundreds of options of rental products. Our team of Event Designers work with you to make sure the look and feel you want correlate with your vision and your budget. Our highly experienced staff can help you find ways to make certain aspects fit in your budget or help you create that unique look you've been searching for!
We specialize in transforming venues so that you and your guest are blown away with our finish product! We are very proud of our brand so we make sure all of our events are designed to take you and your guests breath away with our unforgetable designs!
See our Portfolio for photos of Parvati & Athena Events.
Our Event Decor & Rental services typically start at $3,000 which includes all the decor and rental products. Pricing is based off of the individual items you choose for your event. We only take on full service Event Decor and Rentals. If you require only a few items let us know and we will direct you to our most trusted rental companies.
We source out most of our event rentals within the Ottawa Valley through trusted rental companies. This allows us to provide any style you are looking to achieve for your event.
Price: $3000+
Floral Design
Using "real touch" silk floral and real floral, our floral designers create many floral designs for your wedding. Specializing in Garden-Inspired Arrangements with floral backdrops and hanging ceiling floral, we like to create wild and whimsical floral designs. We currently only offer this service to customers using our Event Decor & Rental Services.
Our Floral Design Team can design all your floral components using silk and real floral elements. Our design team works with you to design your personal arrangements and your ceremony to reception arrangements. We also do additional floral elements which include arbour florals, signage floral, and custom ceiling floral. Our installation is included within our prices as we are on site decorating. We typically only take on full floral orders.
Prices vary based on designs, size of wedding and availability.
Price: $2500+
Service Areas
Being located in the Ottawa Valley we service most of Eastern Ontario from the West side of Ottawa to North Bay and into Quebec as well as the areas of Kingston, Peterborough, and the Muskokas. Our team travels to various locations within Ontario and Quebec.
Our Commitment
Being a bride can be very stressful and the decor is usually one of the most biggest aspects of the wedding. Our team only takes on one event per weekend to ensure that you have our full attention as we know how stressful it can be the week leading up to your wedding. You have our personal cell phone numbers so that you can reach us at anytime!
Let's Chat!
Click here to schedule a date/time to meet with our Event Designer to discuss your event.
Contact us